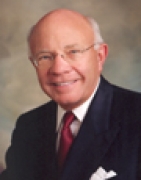 Awards
Kelley School of Business Academy of Alumni Fellows (2005)
About Jeffrey W. Comment
Jeffrey W. Comment joined Helzberg's Diamond Shops, Inc. in May of 1988 as President. He served side by side with Barnett C. Helzberg, Jr., growing the company from 80 to 145 stores. In May of 1995, Helzberg Diamonds became a subsidiary of Berkshire Hathaway Inc. and Jeff became Chairman and Chief Executive Officer for Helzberg Diamonds. Helzberg Diamonds operates 264 stores across the U.S. and can be shopped online.
Jeff recounted 38 years of retail experience as he led Helzberg Diamonds. After graduating from Indiana University in 1966 with a Business Marketing degree, his retail experiences began with several management positions in various department stores, including Jordan Marsh Company and Burdine's. His last department store assignment was as President and Chief Operating Officer of John Wanamaker Department Stores, Philadelphia's largest department store at that time. Jeff had the distinct pleasure to be associated with some of the greatest men of business: the legacy of John Wanamaker, the business expertise of Barnett Helzberg and now the financial and business acumen of Warren Buffett.
Very active with Kansas City's community, specifically the inner city, close to his heart, Jeff served on many local boards, including: Elizabeth Glaser Pediatric AIDS Foundation, Director, Executive Committee; Jewelers of America, Director; The Salvation Army National Advisory Board, Director; Rockhurst University, Board of Regents; William Jewell College, Trustee; and Midwest Research Institute, Trustee.
Past affiliations include: The Greater Kansas City Chamber of Commerce, Immediate Past Chairman; Civic Council of Greater Kansas City, Director/Board Member; as well as serving as the Past Chair and on the Board of Directors for the following organizations: Heart of America United Way; Young Life; Philadelphia Leadership Foundation; Diamond Council of America; Minority Supplier Council; Full Employment Council; and as a Past Director for Jewelry Information Center; Jewelers Charity Fund for Children; and the Greater Kansas Community Foundation and Affiliated Trusts.
Jeff self-published two books: one supporting the application of Christian principles in today's work environment, entitled Mission in the Marketplace, and a recap of Jeff-as-Santa and his hospital visits entitled Jonathan Through Santa's Eyes. The Jonathan book was rewritten and published in October 2002, by John Wiley and Sons, Inc. as Santa's Gift. Santa's Gift encourages readers to find their own "red hat" by volunteering in their community and personally discovering the power of giving. Jeff's wife, Martha, is a therapist, and their two children are Kristen and Ryan. Jeff's focus was on faith, family and friends, and his sudden death at the age of 60 left many people mourning the loss of such a selfless man.