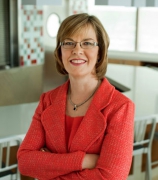 Awards
Kelley School of Business Academy of Alumni Fellows (2004)
About Cheryl A. Bachelder
For 25 years, Cheryl Bachelder held positions of increasing responsibility in marketing and product development, leading up to her most recent position as President and Chief Concept Officer of KFC Corporation in 2001-2003. Cheryl left KFC in September, 2003 and is enjoying a rejuvenating sabbatical year.
Prior to joining KFC, Cheryl was Vice-President of Marketing and Product Development for Domino's Pizza Inc., in Ann Arbor, Michigan.
Earlier in her career, Cheryl worked in brand management in packaged goods companies including Procter & Gamble, Gillette, and Nabisco.
Cheryl is a graduate of Indiana University with both a B.S. and M.B.A. degree earned through the Honors Program in the Kelley School of Business.
Outside of work, Cheryl is active in her church and serves on the board of directors for the Center for Women & Families, a support center for abused women and their children.
Cheryl lives in Louisville, Kentucky with her husband of 23 years and their two daughters, Tracy and Katy.