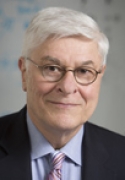 Awards
Kelley School of Business Academy of Alumni Fellows (2001)
About Roger G. Ibbotson
Roger Ibbotson is chairman and founder of Ibbotson Associates, which provides consulting services, software, data, and financial publishing for financial institutions and investment advisors from offices in Chicago, New York, and Tokyo. He also is professor in the practice of finance at Yale School of Management. He is co-author of Stocks, Bonds, Bills and Inflation, the standard reference for information on investment market returns.
Ibbotson conducts research on a broad range of financial topics and is a regular contributor and editorial board member to both trade and academic journals. He has served as a consultant to many companies in the financial and investment industry. Ibbotson has directly managed bond portfolios, traded equity securities, and managed asset allocation accounts.
He received a bachelor's degree from Purdue University, an MBA from Indiana University, and a Ph.D. from the University of Chicago, where he taught for more than 10 years and served as executive director of the Center for Research in Security Prices.