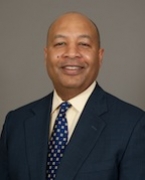 Awards
Kelley School of Business Academy of Alumni Fellows (1998)
About C. Mack
C. Mack is the President of Mack Associates. He was president and CEO of Citibank's Central and Mid-Atlantic Regions which include the Chicago- and Washington, D.C.-based arms of the nation's largest financial services corporation. Citibank's Central Region has a network of more than 50 Chicago-area branches with assets in excess $3.5 billion. The Mid-Atlantic Region consists of 26 branches with $1 billion in assets. Mr. Mack directed the integration of all Citibank business operations in Illinois, the District of Columbia, Maryland, and Virginia, where he oversees all customer and sales activities.
Prior to coming to Chicago, Mr. Mack served as senior vice president of branch operations and sales for Citibank Florida. Previously, Mr. Mack served as worldwide vice president of marketing services for Ryder Systems in Miami, Florida, and as a brand manager for Procter & Gamble in Cincinnati. He is on the Community Advisory Board at the University of Cincinnati.
Mr. Mack received his MBA degree in marketing from Indiana University in 1984. He holds an undergraduate degree in marketing from the University of Cincinnati. He lives in Chicago with his wife, Tenetia, and their three children.