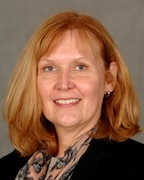 Awards
Kelley School of Business Academy of Alumni Fellows (1995)
About Marcia Parmerlee Miceli
Marcia Miceli is a professor at Georgetown University's McDonough School of Business. Previously, she was the Associate Dean for Academic Programs and Professor of Human Resources at the College of Business of Ohio State University. In this capacity she oversaw all graduate and undergraduate programs, working with academic directors to develop plans to revise the undergraduate program and continue new initiatives in the MBA program. With primary responsibility for developing the staffing model, Dr. Miceli worked on developing a procedure to respond in the matrix structure to perceived teaching performance problems and administers the consolidation of all graduate program administrative offices.
Prior to being named Associate Dean in 1993, Dr. Miceli was Chairman of Ohio State's Department of Management and Human Resources in the College of Business. During her tenure in this position she established and revised teaching schedules, implemented an individual spending account program, and performed extensive salary analyses among her other responsibilities.
Dr. Miceli received a BA with Distinction and Departmental Honors in Psychology from Indiana University in 1974. Her MBA in Personnel and Industrial Relations was awarded in 1978 and in 1982 she was awarded a DBA in Personnel and Organizational Behavior.
Dr. Miceli's current research focuses on workaholism in organizations and the predictors and outcomes of union members' pay satisfaction. She has published numerous articles in her diverse field including extensive studies of pay satisfaction, effects of whistle-blowing and other aspects of management and organizational behavior. She is the co-author of the books Whistle-blowing in Organizations (2008, with J. P. Near and T. M. Dworkin) and Blowing the Whistle (1992, with J.P.Near). Her research interests also include compensation systems, and her work has appeared in leading journals such as Academy of Management Journal, Academy of Management Review, Administrative Science Quarterly, Journal of Applied Psychology, Organization Science, and Personnel Psychology.
Currently, she serves as a member of the editorial board of Organization Science and has served as a member of the editorial boards of Journal of Management and Academy of Management Review.