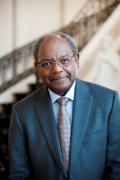 Awards
Kelley School of Business Academy of Alumni Fellows (1994)
About Eddie C. Brown
Ed Brown is founder and president of Brown Capital Management, Inc., an investment management firm in Baltimore, Maryland. The firm manages private accounts for institutions and wealthy individuals. In addition, Brown Capital Management offers three mutual funds -- equity, balanced, and small company -- that are open to the public.
For the past 14 years, Mr. Brown has been a regular panelist on the nationally televised public broadcasting program, 'Wall $treet Week' with Louis Rukeyser. In 1991, he won the program's stock picking contest for a second time. His 1991 win was particularly impressive because his stock picks were up 115.8%, setting a record in the 21-year history of the program.
Prior to starting his own firm in 1983, Mr. Brown served as a vice president and portfolio manager for 10 years at T. Rowe Price Associates. His education includes a bachelor's degree in electrical engineering from Howard University, a master's in electrical engineering from New York University, and an MBA from Indiana University. He also holds Chartered Financial Analyst (CFA) and Chartered Investment Counselor (ClC) designations.
Mr. Brown is a firm believer in 'giving something back.' His firm is a corporate sponsor of two programs that offer fellowships to minorities pursuing MBA degrees: the Consortium for Graduate Study in Management and the Financial Services Program. Mr. Brown was himself a Consortium fellow while getting his MBA. In addition, he and his wife have established a 'named' fund in the Baltimore Community Foundation. Income from the fund provides educational programs for Baltimore's inner city youth.
In addition to donating money, Mr. Brown gives generously of his time to community affairs. In the past, he has served on the boards of two United Way agencies. Currently, he is a governor-appointed commissioner of Maryland Public Broadcasting; a member of the board of directors of the Baltimore Community Foundation, where he chairs the investment committee; and a member of the IU President's Roundtable and the Dean's Advisory Council for the IU School of Business.