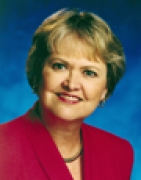 Awards
Kelley School of Business Academy of Alumni Fellows (1993)
About Katherine M. Hudson
Katherine M. Hudson has been president and chief executive officer of Brady Corporation, Milwaukee, WI, since January 1994. Brady, an international manufacturer of identification and material solution products, had annual sales of $517 million in fiscal 2002. Under her leadership, Brady is aggressively pursuing value-creating global growth. Brady products include high-performance labels, signs, specialty tapes and industrial printing systems. With headquarters in Milwaukee, Wis., the company employs more than 3,000 people worldwide and has operations in 20 countries (and counting).
Katherine made the move to Brady following a successful career with Eastman Kodak Company, Rochester, NY. Most recently at Kodak she was a corporate vice president and the general manager of its Professional, Printing and Publishing Imaging Division, a $2 billion sales operation that sold film to professional photographers and imaging materials and equipment to the graphic arts industry. Her 24 years at Kodak included positions in finance, communication and public affairs, information systems and the management of instant photography and printing and publishing business units.
As the top female executive at Kodak, Katherine was instrumental in raising corporate awareness on issues of diversity, women, and work/family balance. She also was responsible for making major performance improvements in the business units she managed. In joining Brady as its leader, Katherine became the first female president and chief executive officer of a major public company in Wisconsin.
Katherine has a Bachelor of Science degree in business management from Indiana University, Bloomington, IN, and has done graduate work in economics at Cornell University, Ithaca, NY She is a director ofCNH Global, NV, and Charming Shoppes, Inc., and also serves on the Alverno College Board of Trustees and the Medical College of Wisconsin Board of Trustees (both in Milwaukee, WI), the National Technology Advisory Board of the Milwaukee Public School System, the Wisconsin United for Health Foundation and the Wisconsin Manufacturers and Commerce Board.
In September 1997, she was named to the CIO Magazine Hall of Fame as one of the 12 most influential CIO's of the decade. In March 1996 she received the Sacajawea Award presented by Professional Dimensions Inc., an organization for professional women, which promotes the personal and professional development of women through a social, and business exchange. The Harvard Business School Alumni Association and the Milwaukee Journal Sentinel named her 1995 Wisconsin Business Leader of the Year. In 1994 she won a Breaking the Glass Ceiling Award from the Women Executives in State Government organization. She was listed as one of the 100 Strategists to Watch in the Journal of Business Strategy (October 1994) and recognized as one of America's Most Powerful Women Managers by Executive Female Magazine (October 1994). In 1993 she was listed by Industry Week Magazine as a national leader in research and development. She was inducted into the Indiana University School of Business Academy of Fellows in 1993. In 1990 she was recognized as the Information Week Information Officer of the Year for her innovative use of strategic alliances in information technology.