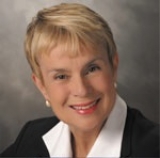 Awards
Bicentennial Medal (2020)
Chancellor and Provost Medallion (1996)

IU Southeast Chancellor's Medallion
New Albany, Indiana
About Cecile A. Blau
Cecile A. Blau served as a county judge in Indiana until December 2008. She currently serves on the Board of Directors for First Savings Financial Group and First Savings Bank in Clarksville, IN.
She received the 1996 Chancellor's Medallion from Indiana University-Southeast.
In 2020, Blau was presented the Bicentennial Medal for her distinguished contributions to Indiana University.