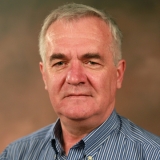 Awards
President's Award for Distinguished Teaching (2015)
Fulbright Award (2012)

Montenegro
About Zoran Kilibarda
Dr. Zoran Kilibarda received a BA in Geography in 1980 and a Master of Arts in Geography in 1985 from the University of Belgrade in Yugoslavia. In 1994, Dr. Kilibarda earned a PhD in Geology from the University of Nebraska Lincoln. Since 1994, Dr. Kilibarda has served in various teaching posts at the University of Nebraska Lincoln, University of Alaska Southeast, Winona State University, Richard Delay College, and Central Michigan University. In 1999, Dr. Kilibarda joined the Indiana University community as an adjunct professor in the Department of Geosciences at Indiana University Northwest and now serves as the Chair of the Department of Geosciences.
A "master at teaching the mass class," Dr. Kilibarda is highly skilled at using technology in introducing students to the study of the earth sciences and the inherent problems regarding earth processes. "His teaching strategy emphasizes the generous use of videos, often in the form of clever animations of various geological processes to help his students understand the material." Dr. Kilibarda's pedagogical tools also serve to limit one of the more common problems in the scholarship of teaching: the "consolidation of responsibility" when a small group of students in a mass class dominate the discussion. Because of Dr. Kilibarda's use of technology and animated enthusiasm, those who observe his teaching describe a "well engaged class, despite the large number of students." A significant indicator of his excellence in teaching, in the past ten years, he has sponsored ten undergraduate students in their research. Dr. Kilibarda has also worked closely in research with nineteen undergraduate students, several of whom went on to pursue graduate level work in their chosen fields of study.
Dr. Kilibarda's recognitions include serving as a Fulbright Scholar at the University of Montenegro from January to June 2013, teaching courses in Geomorphology and Geology. Dr. Kilibarda has been the recipient of 18 research grants and fellowship awards, and is also a five-time winner of the Indiana University Board of Trustees' Teaching Award (2005, 2007, 2009, 2011, and 2013). In 2007, Dr. Kilibarda received the Indiana University Northwest Founder's Day Teaching Award and in 2008 was recognized for distinguished teaching through induction into the Faculty Colloquium on Excellence in Teaching Award (FACET). Dr. Kilibarda's research honors include the 2007 Dean's Award for Distinction in Research and Creativity from IU Northwest and the 2008 Scholarship/Creative Activity Award from IU Northwest.