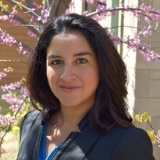 Awards
Fulbright Award (2011)

Chile
About Eden Medina
Jessica "Eden" Medina serves IU, Blooomington, as an Associate Professor of Informatics and Computing, and Adjunct Associate Professor of History. Her research and teaching involve the social, historical, and legal aspects of an increasingly data-driven world.
She is the author of the prizewinning book, Cybernetic Revolutionaries: Technology and Politics in Allende's Chile. She co-edited Beyond Imported Magic: Essays on Science, Technology and Society in Latin America. As her educational background clearly supports, Medina has also published on a wide range of topics, including: computer science education, the rise of global corporate culture, crisis communication during natural disasters, free and open source software, the background and social study of technology, science and technology in Latin America, and the relationship of technology and politics.
Medina received a Fulbright Award in Engineering Education. She received her Ph.D. from MIT in the History and Social Study of Science and Technology (2005) . She also holds a degree in Electrical Engineering from Princeton University (1997) and a Master in Studies of Law from Yale Law School (2014).
At Indiana University, she teaches courses in social informatics, information ethics, technology and the First Amendment, geographies of technology, history of technology, and the social studies of science and technology. She is also an affiliated fellow of the Information Society Project at Yale Law School.