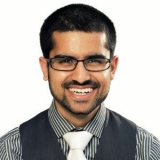 Awards
Stahr Senior Award (2012)
About Ronak Shah
Ronak Shah is from Indianapolis. He graduated from Indiana University Bloomington with a major in cognitive science and an individualized major in conflict resolution with minors in Spanish and criminal justice.
He was a Herman B Wells scholar and a recipient of the Jeanice Bartling Lewis Memorial Scholarship in the College of Arts and Sciences. He joined with fellow students to create Rethinking Incarceration, an organization at IU dedicated to understanding the societal influences of imprisonment and related processes. Ronak spent the summer of 2011 in India, researching religious practices of ascetics in the Jain religion. He was an IU Student Association Supreme Court justice and a member of the Teach for America Corps.
He holds an M.A. in teaching from Marian College and is currently a teacher in the Indianapolis area.