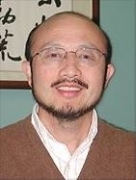 Awards
John W. Ryan Award for Distinguished Contributions to International Programs and Studies (2013)
About Zao C. Xu
Zao C. Xu has his feet firmly planted in two cultures. His passion is bringing the two together to increase understanding and reveal opportunities. A professor of anatomy and cell biology at the Indiana University School of Medicine, Xu—who is known as Joe by most of his non-Chinese colleagues—is the founding director of the Confucius Institute at IUPUI. The institute was established in 2007 to promote Chinese language and culture and to create educational, business, and community relationships between the people of China and the United States. "Dr. Xu shows his commitment to the international mission of Indiana University by working tirelessly to expand the multicultural opportunities available through IU," says Xiao-Ming Xu, the Mari Hulman George Professor of Neurological Surgery. "The high demand and success of these programs thus far is good evidence to show these programs will be sustained and quite important to both the education of IU students and to the lives of those in the broader community. Through his efforts, Dr. Xu has increased Indiana University's central role in the cooperative and international efforts that strengthen and diversify the academic program and enrich the lives of IU community members and their global partners."
As a result of Xu's vision, the enrollment and retention rate in Chinese language courses at IUPUI has significantly increased since 2008, in part because of his efforts to recruit talented Chinese language teachers. He was instrumental in developing an annual three-day Chinese language workshop for teachers of kindergarten through twelfth grade, an opportunity offered to educators from many Midwestern states. Xu has established three Confucius classrooms in Indiana that share the language and culture of China—one in Brownsburg, one in Indianapolis, and the other one at the International School of Indiana. Dedicated to providing superior learning opportunities, the IUPUI Confucius Institute is certified by the Chinese government as one of only two Midwestern Chinese language proficiency testing centers. With the philosophy that language skills are easier to learn in youth, the institute also sponsors the Chinese Language and Cultural Summer Camp for students in kindergarten through eighth grade. From noon to 1 p.m. on Wednesdays, students, faculty, staff, and the public are invited to visit the Confucius Institute to learn more about China through a lecture series that covers diverse topics such as traditional Asian medicine, Chinese pop music, religion, and the Chinese tea culture.
Extending the benefits of Chinese cultural awareness, the institute, under Xu's direction, offers weekly Taiji exercise classes and Chinese cultural activities on campus, as well as the Chinese Film Festival at IUPUI, all for students and the general public. In a few short years, the Confucius Institute has developed a wide variety of opportunities to learn more about Chinese culture. High on the popularity list are study-abroad summer programs in China, which are cultural experiences offered to college students and the general public. In the past three years, more than 50 IU students from various campuses and 15 IU School of Medicine students have participated. Together with Indianapolis Mayor Greg Ballard's office and local community organizations, the Confucius Institute has organized the Indianapolis Chinese Festival for the last five years. Thousands of people participate in the event each year to learn about China's rich heritage. The Confucius Institute has also organized Chinese New Year exhibitions at the Statehouse, Eli Lilly and Company, and the Carmel public library.
Xu's enthusiasm for weaving together cultural awareness and acceptance between his native China and the United States has resulted in a commitment that extends beyond the doors of the Confucius Institute, across the IUPUI campus and the city of Indianapolis, to the other side of the world—which really isn't so very far away.