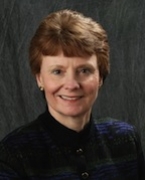 Awards
School of Nursing Special Recognition Award (2012)
About Linda Q. Everett
Linda Q. Everett is the executive vice president and chief nurse executive at Indiana University Health in Indianapolis, Ind., and the 2007 president of the American Organization of Nurse Executives (AONE). Previously, she was the long-time chief nursing officer at the University of Iowa Hospital and Clinics.
At IU Health, Dr. Everett provides leadership to staff at IU Health Methodist, IU Health University and Riley Hospital for Children at IU Health – one of the Midwest's largest health care systems - and is responsible for staff across many disciplines and specialty areas of care delivery. Also she lends strategic planning and workforce development support to the IU Health executive team and the statewide IU Health network; and she serves as associate dean for clinical affairs at the Indiana University School of Nursing.
Dr. Everett earned her nursing diploma from Riverside White-Cross School of Nursing; a bachelor of science in nursing from Kent State University; and a master's of science in nursing at Case Western, all Ohio schools. Her doctorate in nursing administration/nursing systems is from The University of Michigan in Ann Arbor.
Dr. Everett began her career as a staff nurse in the operating room and the psychiatric/medical unit at Riverside Methodist Hospital in Columbus, Ohio. She later became an associate administrator of nursing at Sinai Hospital of Detroit and a director of nursing and vice president of patient services at Detroit Medical Center, Grace Hospital, in Michigan. Her move to the University of Iowa system in Iowa City carried with it teaching responsibilities in the College of Nursing.
An active researcher, lecturer and speaker, Dr. Everett is widely published on nursing management and patient care topics. Among her many honors are being named the Frances Payne Bolton School of Nursing at Case Western Reserve University 2007 Distinguished Alumna; selected for the Excellence in Nursing Distinguished Alumna for Kent State University College of Nursing in 2007: chosen for Woman of Influence in 2006 by the Iowa Business Journal; being named a fellow in the American Academy of Nursing; and completing the Johnson & Johnson Wharton Fellows Program in Management for Nurse Executives at the University of Pennsylvania in Philadelphia.
In addition to her AONE involvement, Dr. Everett's professional activities include serving as a Magnet hospital appraiser for the American Nurses Credentialing Center from 2003 to 2006. She also has held numerous leadership roles for Sigma Theta Tau International, the Honor Society for Nursing, including international treasurer and board member for the foundation, international chair for the Pillar of Leadership Award judging committee and the international policy task force and leadership development, among others. She is the current president of the board of directors for the Indiana Center for Nursing.