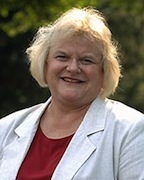 Awards
School of Nursing Special Recognition Award (2008)
About Mimi McKay
Mimi McKay is an associate professor nursing and former dean of Indiana University Southeast School of Nursing in New Albany, IN. McKay has taught at IUS since 1997. She holds a BSN from IUS, a MSN from the IU School of Nursing at IUPUI, and a EdD from Spaulding University. McKay's teaching and research interests include psychiatric nursing, adolescent groups, and therapy.
A specialist in child/adolescent psychiatric mental health and forensic nursing, McKay works with children outside of her full-time teaching duties at IU Southeast, where she has taught since 1995. She works for Kosair Children's Hospital's in-patient child/adolescent psychiatric ward, conducts group psychotherapy for Bingham Child Guidance Center and is assisting Girl Scouts Beyond Bars—a program for daughters of incarcerated women.
In addition, she serves as a mental health nursing consultant to a number of other organizations including: the Clark County Juvenile Detention Center, Home of the Innocents in Louisville, Kosair Children's Hospital and several Louisville schools.
In forensic nursing, she has worked with Anita Hufft, former dean of the IU Southeast nursing program, to implement a forensic nursing concentration on campus. Last year, McKay's students worked at the Kentucky Correctional Institute for Women and the Center for Women and Families in Floyd and Harrison counties in Indiana and in Louisville. McKay's students also started a rape crisis intervention program in Crawford County.