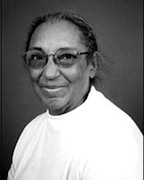 Awards
School of Nursing Distinguished Alumni Award (2005)
School of Nursing Special Recognition Award (1979)
About Anne Mitchem-Davis
Anne Mitchem-Davis has had a stellar career as a practitioner, educator, administrator and public servant. She held teaching positions at Boston, Hampton, Chicago State (CSU) and Howard Universities (HU), served as Acting Dean at CSU, and Assistant Dean at Howard University College of Nursing, and Executive Director, Alpha Kappa Alpha Sorority, Inc. She continues active community involvement with descendants of the African diaspora with primary concentrated work with Cubans, Puerto-Ricans and Panamanians.
When Anne Mitchem-Davis graduated from the IU School of Nursing in 1953, she became the school's first African American graduate. Mitchem-Davis went on to lead a distinguished career in nursing, beginning as a school nurse for the Marion County Department of Health and Hospitals and eventually becoming Assistant Dean of the College of Nursing at Howard University.
Mitchem-Davis's career path took a gradual turn towards academic nursing. After leaving the Marion County Department of Health and Hospitals, she moved to Boston, where she became a nurse and assistant supervisor at the Visiting Nurse Association of Boston. She spent a short time as nursing advisor for the Consultation and Education Program at Boston University, but returned to patient care at Boston City Hospital, where she spent thirteen years as a nursing director in outpatient care. It was after this position that her Mitchem-Davis directed her career towards academic nursing. In the early 1980s, she moved to Chicago to become Chairman of the College of Nursing at Chicago State University. In 1983, she was named advisor of the year, and in 1984 and 5, she was faculty member of the year. Later, she took a similar job as Chairman of Senior Studies at Howard University's College of Nursing, eventually becoming Assistant Dean and coordinator of the Mississippi Delta Project.
The Davis-Sams Distinguished Visiting Professorship at the IU School of Nursing is named partly in her honor. Mitchem-Davis was the School of Nursing's 2005 Distinguished Alumni award winner.