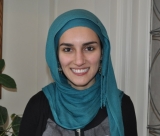 Awards
Wells Senior Recognition Award (2014)
Truman Scholarship (2013)
About Rahaf Safi
Rahaf Safi, of Plainfield, IN, is a Truman Scholar. She studied political science and philosophy at Indiana University Bloomington.
Safi has been deeply involved in civic activities and campus leadership at IU and in Bloomington. She founded and serves as president of the IU campus chapter of Oxfam America, a relief organization dedicated to finding lasting solutions to global hunger, poverty and injustice. Safi cites her family background as an influence on her interest in international politics and policy. Her parents are immigrants from Damascus, Syria, and other family members remain in Syria, where they have been affected by the ongoing conflict there. With the start of the Arab Spring, Safi said, she became interested in constitutional design. She wants to attend law school and learn how non-democratic countries can design just constitutions that reflect their culture while protecting human rights.
Safi was a member of the Board of Aeons. She served as student body representative to the Committee for Fee Review in 2012 and has served as student representative to committees for the university's Wells and Stahr senior awards.
As an AmeriCorps participant in Bloomington, she worked as a teacher's assistant and recruiter for the Head Start preschool program and tutored at the Rise, a transitional housing program for domestic violence survivors. She volunteers as a legal advocate for Middle Way House, conducting research on programs for women in prisons and jails. She has been a legal intern in a Bloomington law office and a policy intern in the summer of 2011 with the American Civil Liberties Union in Washington, D.C.