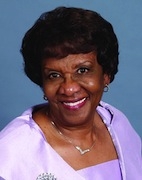 Awards
School of Nursing Distinguished Alumni Award (2003)
About Marilyn Edmondson
Dr. Marilyn Edmondson has dedicated her life to helping others through healthcare and education with her humanitarian work with the organization CARE International. CARE provides emergency relief, post-disaster rehabilitation, and community projects to help with serious problems.
Dr. Edmondson received her MSN from Indiana University in 1966 and her Ph.D of Education from the University of Cincinnati in 1976. She then became an assistant professor at Howard University in Washington D.C. During her time there, Dr. Edmondson held dual appointments in the Office of International Health, College of Medicine and the continuing education program mentored graduate students in public health and assisted with obtaining grants. She retired from Howard University in 2001.
Her community work includes serving six years on the board for Murphy Harpst and as an advocate for CARE international, serving in several African countries. She has been recognized with the University of Cincinnati Mosaic Award; Indiana University's Founder's Day ceremony in 1966 for her high scholastic achievement, where she was inducted into the Alpha Chapter of Sigma Theta Tau; inducted into Pi Lambda Theta and Kappa Delta Pi national honor societies in Education in 1976; chosen as one of the thirty-three most outstanding Black women of Cincinnati by the Optimist Welfare Club and became the presiding officer at Ohio's World Health and International Women's year; and awarded Indiana University's School of Nursing Distinguished Alumna award in 2003.
In retirement, Edmondson was recently appointed to the advisory committee for the Lillian Carter Center for International Nursing at Emory University's Nell Hodgson Woodruff School of Nursing. She currently lives in Smyrna, Ga. where she is a member of the Marietta Street United Methodist Church in Cedartown.