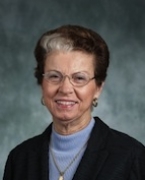 Awards
School of Nursing Distinguished Alumni Award (2000)
About Sally L. Lusk
Sally Lechlitner Lusk is the Professor Emerita of Nursing in the Division of Health Promotion and Risk Reduction at the University of Michigan School of Nursing. Throughout her long career at the University of Michigan, Dr. Lusk taught courses and advised students in all program levels and guided numerous master's degree theses and projects, and doctoral degree students through program planning to dissertation. She also developed and administered several innovative educational programs such as the off-campus BSN completion programs in Flint, Kalamazoo, and Traverse City; the Occupational Health Nursing (OHN) MS degree program; the OHN specialization in the U-M School of Nursing's PhD program; and the offering of the OHN MS program in an On-Job/On Campus format through collaboration with the School of Public Health and the College of Engineering.
Dr. Lusk's primary research interests include promoting use of hearing protection, testing behavioral interventions, promoting worker health and safety, and the effects of noise. Her innovative behavioral approach to increasing workers' protective behavior served as the basis for the internal program of research at the National Institute for Occupational Health and Safety. Dr. Lusk conducted the country's - and potentially the world's - first large-scale, randomized clinical trials of interventions to promote the use of hearing protection. In addition, Dr. Lusk has been appointed to federal review groups, coordinating committees, task forces, and served as an AAN Senior Scholar at AHRQ.
She graduated from Indiana University with a BSN in 1967, a MPH in 1969, and a Ph.D in 1979 from the University of Michigan. She was awarded the Distinguished Alumni Award in 2000 from the IU School of Nursing for her long and successful academic career.