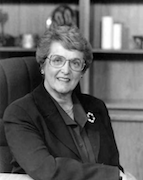 Awards
Bicentennial Medal (2020)
School of Nursing Distinguished Alumni Award (1998)
About Nancy Dayhoff
Nancy Dayhoff is an Associate Professor Emerita of Nursing at the IU School of Nursing. She graduated from Indiana University with a BSN in 1958 and a Ed.D in 1987.
Dayhoff served in leadership positions for the National Association of Rehabilitation Nurses and helped organize its first research symposium.
She is also an author and presenter on elder care, particularly as it relates to preventing falls. Dayhoff has been active in the local community, having served as the president of the board of directors, Major Hospital (Shelbyville, Ind.) and as a member of the Indiana Hospital Association's Council on Hospital Governance. She received the Distinguished Alumni Award from the School of Nursing in 1998.