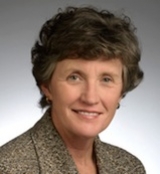 Awards
School of Nursing Distinguished Alumni Award (1996)
About Jane M. Kirschling
Jane M. Kirschling is the Dean of the University of Maryland School of Nursing. Previously, she was the dean at the University of Kentucky College of Nursing, dean at University of Southern Maine College of Nursing, associate dean for academic affairs at University of Rochester, and associate dean for graduate studies at Oregon Health & Science University.
Dr. Kirschling's clinical expertise is in mental health nursing with a focus on end-of-life care. For more than a decade, her scholarship has focused on workforce development with a special emphasis on rural states. Earlier in her academic career and work as a psychiatric nurse, she researched the experience of terminal illness among patients and caregivers and the grief process. Dr. Kirschling holds degrees from Viterbo College, Indiana University, and Harvard University.
She is active in the nursing community, having been inducted as president of the American Association of Colleges of Nursing and will serve a two-year term. Dr. Kirschling is a fellow in the American Academy of Nursing and a member of the AACN Board of Directors. In the past, she has served as a AACN representative to the American Nurses Association Congress on Nursing Practice (2006-2010), a co-chair for Sigma Theta Tau International—The Honor Society of Nursing International Advisory Council of Chief Nursing Officers and Deans (2007-2009), and president of Board of Directors at Hospice and Palliative Nurses Association (2002-2003).