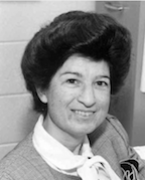 Awards
School of Nursing Distinguished Alumni Award (1991)
About Ruth Davidhizar
Dr. Ruth Davidhizar was a former dean and professor of nursing at Bethel College in Mishawaka, IN. She also taught at Ball State University, St. Andrews University (in Berrien Springs, MI), and Memorial Hospital of South Bend School of Nursing. In addition, she was a director of nursing at Logansport State Hospital in Logansport, IN.
Dr. Davidhizar earned her BSN from Goshen College School of Nursing and her MSN and DNS in Psychiatric Nursing Education/Research from Indiana University. She was a fellow in the Academy of Nursing and designated in 2006 as a Transcultural Nursing Scholar by the Transcultural Nursing Society. Throughout her career, Dr. Davidhizar wrote more than 850 articles, book chapters and books on strategies to enhance the provision of culturally-appropriate care and developed a model for assessing cultural phenomena relevant to the delivery of culturally-appropriate care. Her textbook, "Transcultural Nursing: Assessment and Intervention," has been widely adopted by schools of nursing throughout the world.
In the nursing community, Dr. Davidhizar held a number of state and national positions. She was the co-chair of the Expert Panel on Cultural Competency for the Academy of Nursing, a member of the State of Indiana Health Care Professional Development Commission, and served as an ACCN Dean mentor. For her achievements in the study of cultural competency in nursing, Dr. Davidhizar received the Distinguished Alumni Award from IU School of Nursing in 1991.