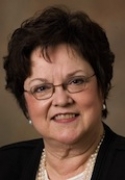 Awards
School of Nursing Distinguished Alumni Award (1988)
About Gail A. Wolf
Gail A. Wolf is a clinical professor at the University of Pittsburgh School of Nursing where she is responsible for the master and doctoral programs in nursing leadership. Previously, she was the Chief Nursing Officer for the University of Pittsburgh Medical Center in Pittsburgh, Pennsylvania, where she had spent 23 years.
Dr. Wolf received her Baccalaureate in Nursing from West Virginia University, her Masters in Nursing from the University of Kentucky, and her Doctorate in Nursing Administration and Organizational Psychology from Indiana University in Indianapolis, Indiana. She is a Wharton Fellow, and has served as President of the American Organization of Nurse Executives. Dr. Wolf has been a member of the Magnet Commission for the past 12 years and currently serves that organization as chairperson of the Commission. She has published and lectured extensively throughout the United States, Australia, Italy, Japan, Canada, Italy and Finland on issues relating to leadership of patient care. Her career interests have always centered on issues of leadership, work environment, organizational complexity, and organizational development
In 1989, Dr. Wolf founded the Beckwith Institute for Innovation in Patient Care and presently serves as the Executive Director. This institute was established to foster creative solutions to contemporary problems in clinical practice and leadership development, and to contribute new knowledge through the generation of application of research. Through the Institute for Innovation, Dr. Wolf and two of her colleagues have developed a model entitled A Transformational Model for the Practice of Professional Nursing, which is designed to lead organizations through the transformations in critical thinking and in clinical practice, which are necessary for future success.