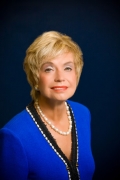 Awards
Bicentennial Medal (2019)
President's Medal for Excellence (2013)

Ceremony Honoring Recipient
South Bend, Indiana
Presenter: Michael A. McRobbie
About Una Mae Reck
Una Mae Reck is professor of education and chancellor emerita of Indiana University South Bend. She earned her Ed.D. degree in curriculum and teaching at University of North Carolina at Greensboro, her M.A. degree in reading from Federal City College in Washington, D.C., and a bachelor's degree in elementary education from District of Columbia Teachers College. In 2002, Reck became the fourth chancellor of Indiana University South Bend, and the first woman to hold that position at IUSB.
Reck has served at all levels of education having served as a first-grade teacher in the inner city of Washington, D.C., and taught remedial and gifted elementary students in the Appalachian Mountains of North Carolina, before entering higher education administration as the assistant dean, associate dean, and professor at Reich College of Education at Appalachian State University. In 1991, Reck was appointed dean of education at Kutztown University in Pennsylvania, and then vice president of academic affairs at SUNY Fredonia, where she was the chief academic officer as well as, in the absence of the president, chief executive officer.
Reck was appointed the fourth chancellor of IUSB and served in that role for eleven years. During her tenure, Reck was credited with establishing the IU South Bend Elkhart Center, River Crossing student apartments (the first on-campus student housing at IUSB or any regional campus), a pedestrian bridge over the St. Joseph River, IU South Bend's Center for a Sustainable Future, renovations to the Administration Building, the opening of the Civil Rights Heritage Center in the former city natatorium, and completion of the long-awaited Education and Arts Building.
Reck has been recognized with the IU President's Medal for Excellence, was awarded a Sagamore of the Wabash by Governor Mike Pence, and was named "Women of the Year" by the YMCA North Central Indiana Tribute to Women. She has served on numerous associations and councils, including the American Association of State Colleges and Universities, the Council of Higher Education Accreditation, the American Association of University Women, National Association for Intercollegiate Athletics, American Education Research Association, Delta Kappa Gamma Society, Phi Delta Kappa, and Phi Kappa Phi. She has served on the boards of Memorial Hospital System, the South Bend Symphony Orchestra, the South Bend Regional Museum of Art Board, Elkhart County Chamber of Commerce, and the Boys & Girls Club.
Reck received the IU Bicentennial Medal in September 2019 in recognition of her distinguished service as the fourth chancellor of IU South Bend.