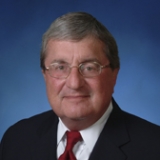 Awards
Maurer School of Law Academy of Law Alumni Fellows (2012)
About Stephen F. Burns
A lawyer turned corporate executive, Stephen F. Burns has built a company from a small van line to a household name. Burns graduated from the IU law school in 1968, where he was elected to Order of the Coif. He initially went to work for his father's law firm, where he began working with Earnest S. Wheaton, who founded a small van line in 1945. Wheaton took Burns under his wing and coaxed him into taking the helm of the company in 1987.
Burns and his management team developed a five-year plan for Wheaton to reach $95 million in revenue by 2007. That goal was reached two years early in 2005. Wheaton's recent purchase of Bekins Van Lines makes the company the fourth-largest moving and storage company in the U.S.
Burns has received numerous honors for his industry achievements, including Ernst & Young's Entrepreneur of the Year award in 2006 (Indiana, Midwest and U.S. finalist); 2008 Lifetime Achievement award from the American Moving and Storage Association (the industry's highest award); and Wheaton's highest honor, the Extra Mile award, in 2010. He has also been an active volunteer, with a special emphasis on Give Kids the World, which helps children with life-threatening illnesses realize their dream of visiting Disney World. Burns stepped down as Wheaton's CEO in September 2008, but he remains the company's chairman, focusing on acquisitions and diversification.