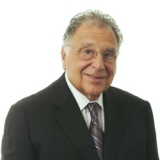 Awards
Maurer School of Law Academy of Law Alumni Fellows (2013)
About Robert R. Duvin
Robert P. Duvin has enjoyed a successful career as a labor and employment lawyer for nearly 50 years. After graduating from Indiana Law in 1961, Duvin was drafted into the Army. He left military service with a wife and child, but no money or work plans, and moved to New York, earning an LL.M. from Columbia University in 1964. He then joined Burke, Haber & Berick, a corporate law firm in Cleveland, which he describes as a wonderful experience. He spent seven years there and was named partner early, but he decided to strike out on his own in 1972.
That decision led to the formation of Duvin, Cahn & Hutton, which grew from a small firm specializing in collective bargaining to a 50-lawyer firm doing significant work for a very high percentage of the 100 largest companies in America. For the next three decades, Duvin and his colleagues traveled across the country representing large companies in high-stakes matters. The firm became part of Littler Mendelson in 2007.
Duvin has been recognized many times for his service to the community and his profession, including 20 consecutive years as one of the Best Lawyers in America. In addition, he has been frequently quoted, written about and profiled in numerous national publications, including The New York Times, The Wall Street Journal and American Lawyer.