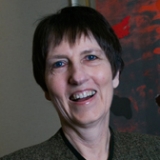 Awards
Maurer School of Law Academy of Law Alumni Fellows (2013)
About Colleen Kristl Pauwels
Colleen Kristl Pauwels has devoted most of her professional career to the Law Library of the Maurer School of Law, which she has built into one of America's leading legal research libraries.
Born in Chicago, Pauwels spent her early years in Washington, Indiana, before her family moved to South Bend. She received her A.B. from Barat College in 1968 and accompanied her husband to Bloomington where he attended graduate school. Working in the government documents department at what is now the Wells Library convinced her to pursue a career in librarianship. After earning a Master of Library Science degree from IU, she was named acting director of the Law Library in 1978 and permanent director in 1983. Concluding that a law degree was essential to success in her new role, she completed her J.D. in 1986 just three years after starting classes, while continuing to work full time.
Pauwels led the transformation of the Law Library from a facility that struggled to meet the basic needs of its faculty and student body to a shining exemplar of a legal research library. During her tenure, the Law Library's collection grew exponentially in size and strength, and its staff became counted among the best in the nation. Pauwels guided the library's migration from a wholly print collection to one dominated by electronic resources, and in 2004, it was named the "Best Law Library in the Country" by National Jurist.
As a longtime member of Indiana Law's Building Committee, Pauwels was equally vital in shaping the school's physical development. Her vision was integral in planning the 1986 addition and renovation of the law school, which transformed an outmoded facility into one suited for a new generation in legal education -- vastly expanding both classroom and collection space while enabling the school to retain its position at the center of the Bloomington campus, closely linked to the rest of the university. As the school matured, she oversaw three additional renovations of the structure as well as the addition of the Lewis Building and U.S. Court of Appeals Judge David Hamilton's chambers.
In addition to preparing the Maurer School of Law for its future, Pauwels has dedicated considerable effort to preserving its institutional history. She initiated the creation of the Law School Bulletin and was a frequent editor of the Bill of Particulars, and her academic research centers on the history of the law school and Indiana's early female lawyers. She has recorded numerous oral history sessions with law school faculty, staff and graduates and is a part of the University Oral History Project. Currently she is co-authoring a volume of biographical sketches and contributions of the trustees and officers of Indiana University from 1982 to 2010.