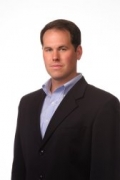 Awards
McKinney School of Law Early Career Achievement Award (2013)
About Kenan Farrell
Kenan Farrell advises clients on a range of business and intellectual property issues, including copyright, trademark, trade secret, patent and privacy issues, as they relate to technology, new media and the arts.
He has provided legal services to businesses and non-profits in international and domestic transactions, as well as litigation and litigation avoidance counsel in state and federal matters.
Kenan also is an adjunct professor of art and museum law at McKinney School of Law.
Even when he's not on the clock, he's working to improve the arts in Indianapolis, currently serving as president of IDADA, the local arts group that organizes the First Friday Art Tour, and secretary of the Kurt Vonnegut Memorial Library.