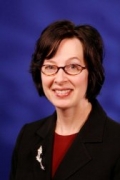 Awards
McKinney School of Law Early Career Achievement Award (2013)
About Janet Gongola
Janet Gongola is the patent reform coordinator at the U.S. Patent and Trademark Office. In this capacity, she manages all aspects of the agency's implementation of the America Invents Act. Gongola also is the associate commissioner for patent examination policy and is responsible for developing patent policy for the agency.
Gongola also is an adjunct professor at the George Mason University School of Law and the George Washington University Law School.
Before joining the patent office, Gongola served as a law clerk for Chief Judge Paul R. Michel in the U.S. Court of Appeals for the Federal Circuit Court and for Chief Judge Sue L. Robinson in the U.S. District Court for the District of Delaware. In addition, Gongola worked as a patent attorney, patent agent, and research chemist at Eli Lilly and Company in Indianapolis.