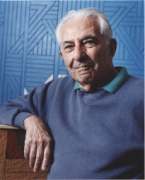 Awards
Honorary Degree (1972)

D.F.A.
Doctor of Fine Arts
Commencement
Indianapolis, Indiana
Presenter: John William Ryan
About Garo Z. Antreasian
Garo Antreasian was born in Indianapolis in 1922. He graduated from the Herron School of Art (now Herron School of Art and Design) in Indianapolis in 1948 with the degree of Bachelor of Fine Arts. He studied under Will Barnet and Stanley William Hayter in New York from 1948-49, and also held, during the same period, a Mary Milliken Award for travel and study. He was a member of the faculty of the Herron School of Art from 1948-59 and 1961-64. During the year 1960-61 he served as the first Master Printer of the newly formed Tamarind Lithography Workshop, Inc. in Los Angeles.
In 1964 Antreasian became Professor, and later Chair (1981-84), in the Department of Art of the University of New Mexico; a position he held until 1987. In 1970, when the Tamarind Lithography Workshop was moved to the University of New Mexico, and was renamed the Tamarind Institute at the University of New Mexico, Antreasian became its first Technical Director, holding that position until 1972.
He is co-author with Clinton Adams of The Tamarind Book of Lithography: Art and Techniques, 1970, which is considered to be the most comprehensive book ever published about lithography. Antreasian spent more than 20 years devoted to the art of lithography. His innumerable contributions amount of work and research, and making lithography one of the most important art processes of our time.
Mr. Antreasian has a very long and impressive list of national print exhibitions, including exhibitions at many of the leading museums and colleges of the United States. He has held one-man exhibitions at the University of Illinois, Little Rock Art Center, Ohio State University, Washburn University, Topeka and Sheldon Memorial Gallery, The University of Nebraska and at the Martha Jackson Gallery, New York City. Collections of his works are held by practically all of the major museums and universities in the United States.
Awards include the National Print and Drawing Exhibition, Wichita Art Association, 1966; Southwest Print and Drawing Exhibition, Dallas Museum, 1966; National Print Exhibition, Olivet College, and New Mexico Fiesta Biennial, 1967; National Print Exhibitions, Albion College, Northern Illinois University, Potsdam College and New York State University, Albany, 1968. He holds the Honorary Master Printer Certificate, which was awarded in 1969 by Tamarind Lithography Workshop, Los Angeles. In 1994, the Southern Graphics Council named Antreasian Printmaker Emeritus.
Antreasian served on the Board of Directors of the College Art Association of America from 1976-1980 and was invited to give the 21st Annual Research Lecture (with Clinton Adams) at the University of Mexico in 1976. He received various fellowships for travel and study, including a Visiting Lecturer Fulbright Award for San Paulo and Rio de Janeiro, Brazil in 1985. Antreasian's work is a part of important collections including the Library of Congress, Smithsonian Institute, and the New York Public Library.
Other honors, among many, include the following. Panelist: "World Print Council Conference on Paper Art and Technology", San Francisco, CA, 1978; Co-President, National Print Council of America, 1980; Co-Chairman, National Print Council Meeting, New Orleans, 1980; Panelist: "Multiples Symposium" New Orleans Art Center, 1980; Chairman, Printmaking Panel, Mid-America College Art conference, Houston, TX, 1980; Chairman, Printmaking Panel, Annual Meeting, College Art Association of American, San Francisco, 1981; Co-Chairman, Symposium of American Printmaking, San Francisco, 1981; Co-Chairman, National Print Council Annual Meeting, San Francisco, 1981; Member, Board of Trustees, Albuquerque Museum, 1981-1990.