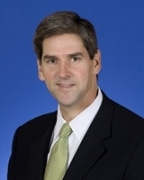 Awards
Bicentennial Medal (2020)
Z.G. Clevenger Award (2012)
About Thomas Cole
Tom Cole joined Citigroup in July, 2010 as Co-Head of US Leveraged Finance, Citigroup Global Markets. He is responsible for the non-investment grade loan and bond financing for US Corporate Clients and leveraged buyouts. He joined Citigroup from HSBC where he was Co-Head of Global Banking, Americas. His responsibilities included Client Coverage for Corporate and Investment Banking, Leveraged Finance, Equity Capital Markets, Private Equity, M &A, and Project Finance for the region.
Prior to joining HSBC, Tom was the head of Deutsche Bank's North American leveraged finance practice, which he started in 2001. IFR Magazine recognized the group as U.S. Leveraged Finance house of the year in 2006. Prior to 2001, he ran the chemical industry group practice within Investment Banking. He joined the firm in 1987 in Corporate Finance in the Chicago office, and moved to London in 1992 where he oversaw the risk management associated with the firm's distressed debt trading, derivatives, and corporate finance activities. Prior to joining Deutsche Bank, he spent three years at Continental Bank, and two years at General Electric.
Tom received a BS in Finance from Indiana University, where he currently serves on the Dean's Council, and an MBA in Finance from the University of Chicago.