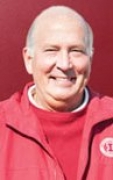 Awards
Z.G. Clevenger Award (2012)
About Gary Grieger
Gary Grieger followed his father, Russell Grieger, BS'38, who played baseball and basketball at IU, to become a Hoosier. A three-year letterwinner at IU, Gary averaged 11 points and 4.5 rebounds per game during his senior season and served as team captain.
He began his business career in sales at the Amoco Oil Company in South Bend, Indiana. By 1981, Grieger had relocated with his family to Orlando, Florida, where he founded his own business as part of the Business Cards Tomorrow national franchise network.
A life member of both the IU Alumni Association and the I Association, he served on the board of the Central Florida Chapter of the IUAA for nearly 20 years and also served on the I Association board of directors for the last 15 years.