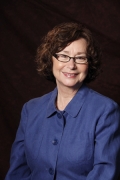 Awards
Bicentennial Medal (2019)
Honorary Degree (2013)

L.H.D.
Doctor of Humane Letters
Commencement
Bloomington, Indiana
Presenter: Michael A. McRobbie
About Vi Simpson
As one of Indiana's most effective and respected leaders, State Senator Vi Simpson has spent her career working, in a bipartisan manner, for causes that matter most to Hoosiers. Before being elected to the Senate in 1984, Simpson served as Monroe County Auditor. In 2008, she was elected Democrat Leader by the State Democrat Caucus.
While in the Senate, Simpson has fought to restructure the state's economic development efforts to create a more favorable business climate that will grow new jobs. She has also backed legislation that supports small businesses and ensures workers can more effectively compete in the global marketplace. Simpson has been a tireless advocate for improving Indiana's public schools and universities, recognizing that an educated workforce is crucial to the future economic success of the state.Simpson has also worked to make health care more affordable and accessible for all Hoosiers. She partnered with the current administration to provide health insurance for the uninsured and make insurance more affordable for small businesses.
She has received a variety of state and national awards and honors for her work. Most recently, she was awarded the 2010 Indiana Women of Achievement Award by the Ball State University College of Sciences and Humanities for her accomplishments through legislative leadership. In 2009 she received the Friend of Children Award by IARCCA, a statewide association of agencies serving children and families, in honor of her many years of work to make life better for Hoosier children.
In 2009 she was the recipient of the Indiana Chamber of Commerce's Small Business Champion Award, which recognizes legislators who support efforts for small business advocacy and growth. She has also been named "Legislator of the Year" by the State Employees Association, the Indiana Library Federation, the Indiana Wildlife Federation, Indiana ARC, and numerous other organizations. On the national level, Simpson has been honored with the Distinguished Legislator Award by the National Alliance for the Mentally Ill, the National Legislator of the Year by the American Academy of Physicians, and in 2005, the American Medical Association awarded Simpson its highest honor, the Dr. Nathan Davis Award for Outstanding Government Service