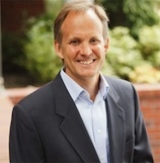 Awards
Kelley School of Business Academy of Alumni Fellows (2013)
About Ken C. Calwell
Calwell has been president of Papa Murphy's International Inc. since June 2011 and has been its CEO since Dec. 31, 2012.
He was executive vice president of Build the Brand of Domino's Pizza Inc. from July 2001 to May 2008 and its chief marketing officer until May 2008. He also was executive vice president of research and development at Domino's Pizza.
He joined Papa Murphy's with more than 20 years of leadership experience at large quick-service restaurant chains. He also was chief marketing officer for Wendy's International, where he was accountable for all brand and field marketing, advertising, new product development, pricing and research. He also was vice president of new product marketing, research and testing at Wendy's.
From 1996 to 1998, Calwell was senior director of marketing-food service for the Frito Lay division of PepsiCo Inc., and from 1988 to 1996, he served in various senior marketing positions for PepsiCo.'s Pizza Hut division and The Pillsbury Co.
Calwell serves on the board of directors of the Dave Thomas Foundation for Adoption and was a member of the Kelley School of Business Alumni Association board of directors. He has a Bachelor of Business Administration from Washburn University and an MBA from the Kelley School.