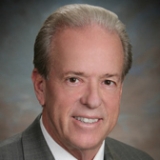 Awards
Bicentennial Medal (2020)
Maurer School of Law Academy of Law Alumni Fellows (2011)
About R. Neil Irwin
R. Neil Irwin is a highly respected counsel to diverse corporate clients, a prodigious business producer for his firm, and a recognized leader in the Phoenix community.
Raised on an Indiana farm, he served in the U.S. Army before attending the law school, where he was elected to Order of the Coif and served on the Indiana Law Journal.
The senior partner in the Phoenix office of the international law firm Bryan Cave LLP, Irwin has been instrumental in establishing public company relationships in diverse industries, including vehicle rentals, healthcare insurance, renewable energy, and retail sales. He also has been involved in key business and civic organizations that have brought employment, educational and cultural venues, and improved civic infrastructure to the Phoenix region. He is a member of the Maurer School of Law's Board of Visitors.
In 2020, Irwin was awarded Indiana University's Bicentennial Medal in recognition of his distinguished service and support of the university.