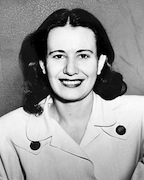 Awards
Maurer School of Law Academy of Law Alumni Fellows (1989)
About Harriet Bouslog Sawyer
Harriet Bouslog Sawyer, JD '36, a member of the Academy of Law Alumni Fellows since 1989, was a lawyer based in Hawaii with her own law firm.
An article in the Honolulu Advertiser notes that Sawyer "was credited with helping convert Hawaii from a near-feudal society to one in which respect for civil liberties and workers' rights are paramount."
Sawyer attended Indiana University and graduated with her law degree in 1936, but left the law field in the same year for, she thought, a life as a writer. Following her professor husband to Hawaii, she was dismayed by the racially stratified society and the poor working conditions she found in the territory.
She and her husband left for the mainland after Pearl Harbor, but not before Sawyer had obtained her Hawaii law license. While working at the War Labor Board in Washington, she met Harry Bridges, president of the International Longshoreman's Workers Union, a labor union that had organized extensively in California and Hawaii. In 1946, the ILWU led its workers in the Hawaii sugar plantations out on strike, and several hundred of the workers were incarcerated under Hawaii's 1850 Unlawful Assembly and Riot Act, which was used to charge assembling workers with felonies. When the ILWU could not find a Hawaii attorney to represent it, Sawyer, who had never tried a case before, was sent to the territory to represent these workers. Relying on then-novel constitutional arguments including the argument that the grand juries that indicted the workers were constitutionally invalid because they included no women, Sawyer convinced the federal courts to stay the prosecutions in the cases, and they were all eventually dismissed.
Sawyer stayed in Hawaii for the rest of her career as the ILWU's attorney. She was disbarred in 1952 for protesting the trial of most of the ILWU's leaders under the Smith Act, legislation that had been passed specifically to deport Harry Bridges and which made it a crime to belong to an organization that advocated the overthrow of the United States government. The Act was used extensively in the McCarthy period against suspected Communists.
The United States Supreme Court overturned her disbarment in 1959. Her accomplishments included playing a key role in the abolition of capital punishment in Hawaii. For her work, she was awarded the Allan F. Saunders Civil Liberties Award by the American Civil Liberties Union. She was also honored by the Hawaii Women Lawyers, the Hawaii State Legislature, and the Honolulu City Council for her achievements during her career.
In a resolution adopted in 1980, the Hawaii State Senate stated that "her service to working people serves as an example to the multitudes of young lawyers today that...unpopular causes are well worth the time and effort expended on them." Sawyer was inducted into the IU Maurer School of Law Academy of Law Alumni Fellows in 1989 for her work in Hawaii.