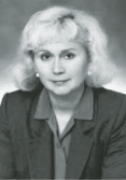 Awards
Maurer School of Law Academy of Law Alumni Fellows
About Kathleen A. Buck
Kathleen Buck's career was characterized by high-profile events: investigations into the Iran-Contra affair, allegations of defense contractor fraud, and
debates about drug testing in the workplace. She served as a key legal authority in the nation's capital during all of these recent episodes in our history.
An Academy of Law Alumni Fellows member and a beloved 1973 alumna, her work in the public interest was recognized by countless organizations before her death in 2001.
The Kathleen Buck Loan Repayment Assistance Program, established with a bequest from her estate, serves as a lasting tribute to her outstanding service to the profession and the Law School. The Buck LRAP enables an increased number of our graduates to pursue government and public service careers. The program is also a strong recruiting tool for the School, helping to cultivate a diverse student body by drawing a larger and more ethnically, racially, and
experientially diverse pool of applicants. Indiana Law strongly supports its students' efforts to serve the community by fostering involvement in clinics
and client service projects such as Student Legal Services and Indiana Legal Services Externships, the Protective Order Project, the Pro Bono Project, and the Public Interest Internship Program. Buck's bequest extends this support to our graduates, shining a positive light on a legal profession that needs talented lawyers to represent underserved communities.