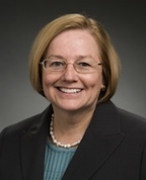 Awards
Maurer School of Law Academy of Law Alumni Fellows (2009)
About Francina A. Dlouhy
With unwavering dedication to her practice at Baker & Daniels for the last 31 years, Francina Dlouhy has built a reputation as one of the leading tax lawyers in America. Since graduating from Indiana University Maurer School of Law in 1977, Dlouhy has represented clients around the country and the state in tax planning and tax litigation. In addition, she has been involved in many of the largest projects involving new investment in the state, utilizing her knowledge of tax and economic incentives to promote job creation and capital expansion.
Dlouhy has received numerous awards and honors from her peers for her achievements in the law. She is among a distinguished group of attorneys who have been listed in The Best Lawyers in America for more than 20 years. She is also an Indiana Super Lawyer, a distinguished fellow of the Indianapolis Bar Foundation, and a recipient the highest civilian honor given by the governor, the Sagamore of the Wabash.
Beyond her distinguished practice, Dlouhy has also devoted time and talent to the management of her firm. She has been particularly instrumental in promoting the advancement of women in the firm and the profession. She has served on virtually every one of the firm's key committees, and is currently the leader of Baker & Daniels' state and local practice group. She was the first woman appointed to the firm's compensation and management committees and has served on the Executive Committee and Strategic & Policy Board. Dlouhy's efforts on behalf of women in the legal profession have resulted in Baker & Daniels' adoption of policies that emphasize striking a balance between work and family obligations. Dlouhy has received the Indianapolis Bar Association's Antoinette Dakin Leach Award, which is named in honor of the first woman to practice law in Indiana, and has twice been recognized as a YWCA Salute to Women of Achievement Honoree.
Dlouhy also serves the community through memberships on boards that reflect her interests outside of the law. She is on the Board of Governors for Riley Children's Foundation and is a board member and former chair of the Indiana Fiscal Policy Institute. She has also been involved with the Midwest Proton Radiotherapy Institute LLC, the statewide Tax Equalization Steering Committee, and the Board of Advisors for the Sisters of St. Benedict of Beech Grove, Ind.