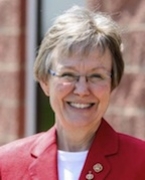 Awards
School of Nursing Distinguished Alumni Award (2013)
About Sue Easter Idczak
Sue Easter Idczak is the director of nursing at Siena Heights University in Adrian, Mich. She earned her bachelor's and master's degrees from the IU School of Nursing and her Ph.D. in higher education from the University of Toledo.
After practicing as a cardiac clinical nurse specialist for many years, Idczak began teaching undergraduate nursing at the former Medical College of Ohio (now University of Toledo) in 1996. During that time, she earned multiple teaching awards from the student body. She has been involved in curriculum development in undergraduate education at the Medical College of Ohio (1996-2005) and in graduate nursing education at Lourdes College (2005-07). She is currently creating both an RN-BSN and a pre-licensure nursing program at Siena Heights University.
In addition to her teaching and curriculum development work, Idczak has published widely and presented at conferences across the country.