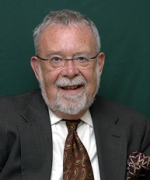 Awards
Maurer School of Law Academy of Law Alumni Fellows (1993)
About James F. Fitzpatrick
James F. Fitzpatrick is a retired partner of Arnold & Porter LLP and an adjunct professor of law at Georgetown University in Washington, D.C. He attended Indiana University, graduating with a B.A. in 1955 and a J.D. in 1959.
During his career, Fitzpatrick has represented major clients such as State Farm Insurance, the Recording Industry Association of America, PricewaterhouseCoopers, and the Commissioner of Major League Baseball. He has also advised various clients facing oversight hearings and congressional investigations, and served as a special counsel for congressional committees in the U.S. Federal Government.
Fitzpatrick has been involved in international movement of cultural properties since the 1970s. He represented the National Association of Dealers in Ancient, Oriental & Primitive Art for 30 years in connection with legislative and executive branch efforts to implement the 1970 UNESCO Convention, and worked towards the 1983 passage of the Cultural Property Implementation Act, which is the U.S. policy regarding foreign cultural properties. When the law passed, he became involved in the Cultural Property Advisory Committee. In addition to his work on cultural properties, Fitzpatrick has served as a member of the board of the Phillips Collection, the Shakespeare Theatre and the Center for Arts and Culture. He also was the chairman of the British American Arts Association, Global Rights, and was the president of the Washington Project for the Arts. Currently, he is a board member of SITE Sante Fe.