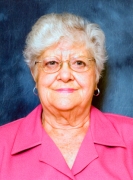 Awards
IUAA President's Award (2013)
The Media School Distinguished Alumni Award (2011)
About Marjorie Smith Blewett
Bloomington native Marjorie Blewett, BA'48, has been involved in journalism nearly seven decades, mostly at IU or in Bloomington.
She began as a staffer on The Optimist at Bloomington High School. As an IU student, she quickly joined the Indiana Daily Student and became its editor during her senior year in 1947. She also began working for the six-month-old Bloomington newspaper, the Daily Herald, which later became the Herald-Times. She worked at newspapers in Bloomington and Lafayette, then worked part-time while she and her husband started a family. In the 1960s, she started working at IU journalism, first as a lecturer, then placement, alumni affairs and administrative work.
Blewett worked with hundreds of students as they sought internships and jobs. Most alumni remember her for her role in the journalism placement office, and her connections with editors and newspapers around the state and country. Blewett served as the placement director from 1969 to 1990, although she continues on at the School of Journalism as its historian, compiling personal historical materials and donating them to the IU Archives. During her years as placement director, she often saw that some students struggled to take on unpaid internships instead of working summer jobs that helped them financially. After retirement, Blewett established a fund to help a student in an unpaid internship each year.
She is a key figure in alumni relationships to the school, starting the Newswire alumni magazine in the 1960s. She founded the Journalism Alumni Association and its board in the early 1970s. She helped set up the constitution and financial structure for the IU Alumni Association. She started working with the organization in 1944, working on class notes.
Blewett, who was an assistant editor of the alumni magazine in the 1960s, was inducted into the Indiana Journalism Hall of Fame in 1999, was awarded the School of Journalism Distinguished Alumni Award in 2011 and is a Sagamore of the Wabash. She has established the Marjorie Smith Blewett Scholarship and donated to numerous other scholarships and funds. She also founded the Ernie Pyle Society for retired alumni of the school. For her service to the university, the IUAA awarded her the President's Award in 2013.