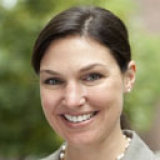 Awards
McKinney School of Law Early Career Achievement Award (2011)
About Emily Benfer
Emily Benfer is a professor at Loyola University - Chicago's School of Law. She graduated from Providence College with a bachelor's degree in English and Writing, and then served in the Peace Corps for two years. After her service in Zimbabwe, Belize, and Thailand, Benfer began working in the legal field with a position as a law clerk at New Haven Legal Assistance Association, Inc. She soon attended Indiana University to earn her juris doctorate, which she would receive in 2005. During law school, Benfer was an editor of Indiana International and Comparative Law Review, Order of the Barristers, and President of both the local and national Equal Justice Works. She also clerked for Judge David Hamilton, and volunteered for the Lawyers' Committee for Civil Rights, the Indiana Protective Order Pro Bono Project, and the Washington Legal Clinic for the Homeless. After law school, Benfer studied for her LL.M. from Georgetown University and later joined the faculty at Loyola.
Her law career has focused on serving the public interest. As a professor, she researches clinical teaching, access to health and justice, poverty law, legislative advocacy, and interdisciplinary partnership. Benfer has worked with numerous organizations to serve people in need, such as the Washington Legal Clinic for the Homeless and Georgetown University Law Center Federal Legislation and Administrative Clinic. She has represented the Epilepsy Foundation and Workplace Flexibility 2010 to advocate amending laws for disabled people, low-wage workers, family and medical leave, and the federal workforce.
Benfer is also active in the community. She has served on the Equal Justice Works Board of Directors and National Advisory Committee, the District of Columbia McKinney Vento Homeless Assistance Advisory Board, the Washington Council of Lawyers Board of Directors and Executive Committee and as a volunteer for the Homeless Children's Playtime Project. Currently, she is the chair of the American Association of Law Schools Poverty Law Section Executive Committee, a member of the Society of American Law Teachers Board of Governors and the faculty advisor from the Norman Amaker Public Interest Law and Social Justice Retreat.