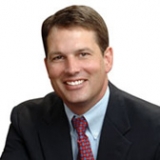 Awards
McKinney School of Law Early Career Achievement Award (2010)
About Jonathan Weinzapfel
Jonathan Weinzapfel grew up on a farm in Posey County and attended IU Bloomington. After graduation, he worked as a sales representative for Eli Lilly and company and as an aide to Congressman Frank McCloskey in Washington, D.C. before returning to Evansville to work for Old National Bank.
In 1999, he was appointed to fill out a term as a state representative in the Indiana State Legislature and went on to be elected to two full terms. In 2003, he defeated an incumbent to win the office of mayor of the city of Evansville with 62 percent of the vote. In 2007, he was re-elected with an overwhelming 85 percent of the vote. Having chosen to not run for a third term in 2011, he currently is a counsel for Faegre Baker Daniels LLP in Indianapolis. Weinzapfel is also an adjunct professor at the University of Southern Indiana.
Some of his major accomplishments while in office have been assisting in the creation of the Growth Alliance for Greater Evansville (GAGE), the Economic Development Coalition for Southwest Indiana, and the Mayor's Education Round Table, which has created the Southwest Indiana College Access Network and the Early Childhood Development Coalition. In addition to his J.D. and B.A. degrees, Weinzapfel holds an M.A. from Georgetown University.