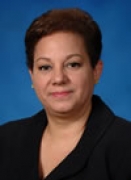 Awards
McKinney School of Law Early Career Achievement Award (2009)
About Ruth Rivera Morales
Ruth Rivera Morales is an attorney with Plews Shadley Racher & Braun in Indianapolis, Morales was president of the Hispanic Law Society while in law school, and also was an Indiana Conference for Legal Education Opportunity Fellow. She was chosen for the Early Career Achievement Award due to her enthusiastic participation in a wide variety of community-based legal initiatives. She is currently an active member of the Indianapolis Bar Association's Diversity Task Force, a board member of the Hispanic Business Council, Chairperson of the Indiana State Bar Association's Latino Affairs Committee. She has also led initiatives such as the compilation of first ever directory of Spanish speaking attorneys in Indiana, increased Latino lawyer participation in various community outreach and networking events and the presentation of CLE programs of interest to attorneys serving the Latino and other communities. She has also given generously of her time and talents to assist the law school and the IUPUI campus with recruitment.
In May, 2008 she was chosen as an "Up and Coming Lawyer" by the Indiana Lawyer for her contributions to the legal profession and her work in the Latino community.
In addition to her law degree, Ms. Rivera Morales holds an M.B.A. degree from Indiana Wesleyan University (2000) and a B.S. degree from the University of Puerto Rico, Mayaguez (1984).