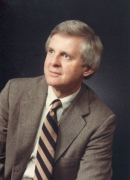 Awards
IUAA President's Award (2013)
About Leland E. Tanner
Highly respected in the investment community, Leland Tanner was chairman of the IUAA investment committee from 2004 to 2012 and is still a member of the Finance Committee. He is also a member of the Woodburn Guild, Hoosier Hundred, Well House Society, 1820 Society and the IUAA's 1854 Society. Tanner, of Indianapolis, has been a stalwart and respected leader in his volunteer work for the IUAA.
Tanner grew up in Lowell, IN, where his father operated a barbershop that stood for 65 years. After graduating from Lowell High School in 1951, Tanner earned a bachelor's degree in finance from Indiana University in 1955. In 1957, he joined American Fletcher National Bank (currently known as Chase Bank) and worked his way up to Senior Vice President. Tanner later transferred to Indiana National Bank in 1973, where he would manage money for the State of Indiana Public Employees Retirement Fund (PERF). He also established his own company, Prime Capitol Management, continuing to oversee management of PERF. Tanner sold his company in 1999 and retired after 25 years with the company. In 2000, Tanner's career was recognized with a citation from PERF and a Sagamore of the Wabash from Governor Frank O'Bannon.
In the Indianapolis community, Tanner has been an active volunteer. He was the treasurer and president of Les Amis du Vin, and belonged to the Indianapolis Wine Society, Liquid Assets Tasting Society and the Confrérie des Chevaliers du Tastevin. At Tastevin, he was its treasurer for 12 years.