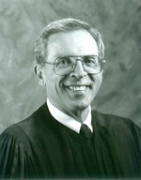 Awards
Maurer School of Law Academy of Law Alumni Fellows (2000)
About William I. Garrard
Judge William Garrard attended Wabash College, receiving his A.B. in 1954. Following graduation, Judge Garrard served in the U.S. Army from 1954 to 1956. He then went on to Indiana University, where he received his J.D., with distinction, in 1959 and was elected to the Order of the Coif.
His law career began at the Warsaw, Indiana firm of Graham, Rasor, Eschbach & Harris. Garrard worked in general practice from until 1974, while concurrently serving as Deputy Prosecutor from 1959 to 1969. Then-Governor Otis Bowen appointed Garrard to the Indiana Court of Appeals in 1974. Judge Garrard was re-elected to his judicial post three times. He also served as presiding judge of the Third District for three terms. In 1990, Judge Garrard earned an LL.M. from the University of Virginia Law School. Judge Garrard served more than 25 years on the bench before retiring earlier this year. Hee continues to serve as Senior Judge of the Court of Appeals.
For 10 years, Judge Garrard served as an adjunct professor of law at the Indiana University School of Law Bloomington. He has also served as a faculty member at the National Institute of Trial Advocacy, and as a lecturer in trial and appellate practice seminars. He has presented at seminars for the Indiana State Bar Association, ICLEF, the National Highway Traffic Safety Administration and the Indiana Law Enforcement Academy.
Garrard has served as president of the Kosciusko County Bar Association; vice chairman and parliamentarian of the Indiana Supreme Court Rules Committee; and secretary of the Indiana State Bar Association. He has also served as president of the Warsaw Rotary Club; president of the Warsaw Chamber of Commerce; founding director of the Kosciusko Community YMCA; elder and president of the board of trustees of the First Presbyterian Church of Warsaw; and president of the Kosko Conservation Club. Judge Garrard is also a past president of the Indiana University School of Law Bloomington Law Alumni Association.
Garrard has received three Sagamore of the Wabash awards, given by Governors Bowen, Evan Bayh, and Frank O'Bannon; and a Presidential Citation from the Indiana State Bar Association.