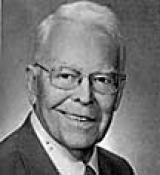 Awards
Maurer School of Law Academy of Law Alumni Fellows (1995)
About John W. Houghton
John W. Houghton was a lawyer who practiced in litigation and probate for the Indianapolis law firm of Barnes & Thornburg LLP from 1943 to 1999.
Born in Vincennes, IN, Houghton attended Indiana University, earning an A.B. in 1941 and a J.D. in 1942. At IU, he was he was Editor-in-Chief of the Indiana Law Journal, President of the IU Law Club, a member of Phi Delta Phi legal fraternity, Phi Gamma Delta social fraternity, and the Order of the Coif.
Throughout his career, he was active in various organizations. Houghton was a member of the American College of Trial Lawyers and the American College of Trust and Estate Counsel. He also served as president of the Indianapolis Bar Association in 1961, the Lawyers Association of Indianapolis in 1952-53, Indianapolis Legal Aid Society in 1959, and the Indianapolis Lawyers Club in 1971-72. In addition, he was a director of Goodwill Industries of Central Indiana (1958-1989), and a member of the Board of Visitors at IU School of Law, having been its chairman in 1976. Houghton has been recognized as one of the "Best Lawyers in Indiana", a Fellow in the IU School of Law Academy of Law Alumni Fellows, and given the 50-Year Award of the Fellows of the Indiana Bar Foundation.