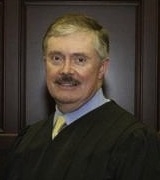 Awards
Maurer School of Law Academy of Law Alumni Fellows (1999)
About Michael S. Kanne
Michael S. Kanne is the Judge of the Court of Appeals for the Seventh Circuit. He received his B.S. degree in 1962 and his J.D. degree in 1968 from IU and served on active duty as an officer in the U.S. Air Force from 1962-65. He was appointed by President Reagan in 1987 to the U.S. Court of Appeals in Chicago. Judge Kanne was first appointed to the federal bench by President Reagan in 1982 and served five years as a U.S. District Judge in Indiana until his elevation to the appeals court. He was an Indiana state trial court judge for nearly 10 years prior to his first federal appointment.
He served on the national committee that oversees the operation of the federal defender system of the United States. He assisted the American Institute of Architects in establishing the first in a series of international conferences on court design. He has been involved as a lecturer, panelist and moderator in an extensive number of judicial programs for news media groups, law-related organizations, judges and architects throughout the United States and abroad.
Kanne is the author of articles on court design appearing in the British publications The Lawyer and the New Law Journal. More recently, he was a lecturer at a London program on court design sponsored by the Royal Institute of British Architects and the University of London, which culminated with a BBC interview. In late 1998, he was in Moscow as a presenter for Russian judges regarding litigation of trademark and copyright claims.
Kanne serves on the Board of Visitors for both the IU School of Law-Bloomington and the School of Public and Environmental Affairs. He is past president of the Law School's Alumni Association. He served as an officer and was president-elect of the Indiana State Judges Association and chaired the Judicial Reform Committee.