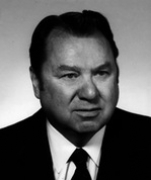 Awards
Maurer School of Law Academy of Law Alumni Fellows
About J. Keith Mann
J. Keith Mann, LLB'49, was the former dean of Stanford University Law School. Mann joined the Law School in 1952, was its associate dean for academic affairs from 1961 to 1985, and served as acting dean in 1976 and 1981-82. In these positions, he is credited with playing a central role in the school's emergence as one of the nation's top law schools. Mann became professor emeritus in 1988 after his retirement.
After graduating from Indiana Law in 1949, Mann clerked for Supreme Court Justice Wiley B. Rutledge and his successor, Sherman Minton, a 1915 graduate of Indiana Law. He practiced law in Washington, D.C., then took the position of special assistant to the chairman of the Wage Stabilization Board in 1951. A professor at Stanford Law School since 1952, Mann was considered "an esteemed labor arbitrator who helped build Stanford Law School into one of the leading law schools in the country." He went on to serve as associate dean and then as one of the schools most beloved deans before his 1988 retirement.
In addition to his service as an educator, Mann possessed a keen understanding of labor law and arbitration that made him invaluable during many local and national labor crises. He served on several presidential boards and was active as a labormanagement arbitrator. From 1980 to 1997, Mann served as special master in a U.S. Supreme Court case (United States v. Alaska, No. 84, Original) involving a territorial dispute between the federal government and Alaska over ownership of parts of the seabed and offshore lands along Alaska's northeast coast
In 1955, President Dwight Eisenhower's Secretary of Labor James Mitchell asked Mann to examine atomic energy labor management problems and conflicts. Presidents John F. Kennedy, Lyndon B. Johnson, and Richard M. Nixon also appointed Mann to negotiate national labor disputes. During the Kennedy administration, he helped settle a controversy between the Southern Pacific Company and railroad clerks, as well as a dispute between airlines and flight engineers. In 1967, Johnson appointed Mann chairman of a fact-finding board during a West Coast shipyard strike, and in 1971, Nixon selected him to head a board of inquiry into the extended dock strike. As a result of his outstanding work, the New York Times featured him as a "Man in the News."