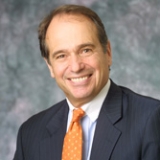 Awards
Maurer School of Law Academy of Law Alumni Fellows (2003)
About R. Bruce McLean
R. Bruce McLean is a senior executive and the former chairman of Akin Gump Strauss Hauer & Feld LLP in Washington, D.C. Under his tenure as chairman, the firm grew to rank among the largest law firms in the United States. Prior to becoming chairman, McLean spent more than 20 years litigating complex business cases in federal court, particularly those involving federal regulatory programs, energy issues, natural resources law and antitrust matters.
McLean attended Indiana University, graduating with a B.S. in 1968 and a J.D. in 1971. At IU, he earned a fellowship, an Order of the Coif, and worked on the Indiana Law Journal. After law school, he worked with the Appellate Court Branch of the National Labor Relations Board. While at the Board, he argued more than 30 cases in the federal circuit courts and had primary responsibility for several landmark cases involving the availability of injunctive relief from government action. In 1973, McLean joined the staff at Akin Gump Strauss Hauer & Feld LLP as a litigation counsel. In that role, he helped boards of directors analyze the risk of litigation in significant cases requiring board participation in decision-making. In 1982, McLean became the chair of the firm's Washington litigation practice, which he led until 1994. During his leadership, the firm grew from eight to more than sixty full-time litigators and 170 lawyers in Washington, D.C. He also has been a member of the firm's management committee since 1979. Currently, he is a member of its diversity committee.
In addition, he has been a member of the board of visitors of the Georgetown University Law Center since 2002 and was honored as the recipient of its inaugural Dean's Award for Distinguished Service in 2007. McLean also served in 2006 and 2007 as chairman of the annual "Lawyers Have Heart" race in Washington, D.C., which raises funds for the American Heart Association's research and community education programs. Due to his achievements, he has been listed in every edition of The Best Lawyers in America guide since its inception in 1983.
Outside of his career, McLean is an active participant in community, civic, and charitable activities. He is a member of the executive committee of the Federal City Council, the board of the Neighborhood Legal Services Program for the District of Columbia Bar, vice chairman of the Kennedy Center Corporate Fund, the board of visitors of the Georgetown University Law Center, and the board of visitors of Indiana University Maurer School of Law.