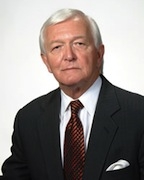 Awards
Maurer School of Law Academy of Law Alumni Fellows (2009)
About Lloyd H. Milliken, Jr.
For nearly 50 years, Lloyd Milliken has been a forceful advocate for an efficient, fair, and balanced civil justice system, and the maintenance of America's jury system in civil litigation. Milliken has spent his entire career with Locke Reynolds, which recently merged with Frost Brown Todd, and has achieved national recognition for his work as a trial lawyer and leader of the defense bar.
Milliken's practice has focused primarily on representing defendants in product liability cases. He has represented product manufacturers of automobiles, heavy equipment, hand and power tools, industrial machinery, medical devices, and many other products. Milliken has served as national counsel for a major seatbelt manufacturer. He gained national recognition for his service as Indiana counsel for General Motors in the litigation against NBC arising out of the Dateline program that misrepresented the effect of high speed crashes involving GM pickup trucks. Milliken's investigative efforts led directly to an unprecedented retraction and apology by Dateline NBC, and established a new standard of fairness and accountability for investigative reporting.
Milliken's success as a trial lawyer has garnered him the respect and recognition of his peers. He has been inducted into the American College of Trial Lawyers, the most prestigious organization of its kind. In 1993, the Defense Trial Counsel of Indiana named Milliken Defense Lawyer of the Year.
Milliken's leadership of the defense bar is evidenced by his service as president of the Defense Research Institute (DRI), the world's largest organization of defense lawyers. Milliken has served DRI in many significant roles for more than a quarter of a century as well as serving as president of the Defense Trial Counsel of Indiana. More recently, Milliken was elected the inaugural president of the National Foundation For Judicial Excellence which provides continuing education to America's state appellate court judges. In recognition of these activities, Milliken was the recipient of DRI's Louis B. Potter Lifetime Professional Services award in 2007.
Milliken's professional life is also notable for his dedication to the mentorship of young lawyers, the expansion of diversity in the profession, and to the promotion of civility among members of the bench and bar.